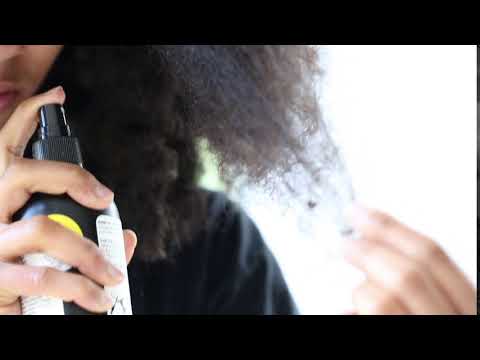 Anti-static Hair Detangler
If your smooth, shiny hair only lasts as long as the good weather, Sunny Day will keep frizz from stealing your hair's thunder.
We'll send you an email as soon as it is in stock
We will keep you posted
You'll receive an email as soon as this product is in stock
Continue Shopping
Why it works
---
Honey
Moisturizing, cleansing
"I use Sunny Day after every shower, I spray a few sprays in my hair and into my hands and then I run it through my hair and then brush it...No more fly aways and static!"
Cam the Yam, London Ontario
Strengthen and Repair Your Hair
Hair need some looking after? We get it, we've all been there. That's why we've created a range of hair treatments that work for every hair type to leave your hair looking good and feeling gorgeous.
Find your hair's new best friend.
Please Don't Discontinue!
Sucharita
This product is a literal life changer. It manages my static AND smells amazing!
Yes, I would recommend to a friend
MY FAVORITE PRODUCT EVER! PLEASE GOD DON'T TAKE IT AWAY!
Rose
NOOOOOOOOOOOOO!!!!! I just got online to stock up and see that this is going away. I am beside myself. I have very dry, wavy/coarse yet fine hair so this adds just the right amount of humidity to tame it without weighing it down or making it stringy. I never liked my hair until I found this. I'm so sad. I love it so much, I normally buy several at at time. Please don't take it away.
Yes, I would recommend to a friend
the best product ever!
Jules
I not only use it for my hair but also to spray on my clothes so they don't get static :)
Yes, I would recommend to a friend
Please don't discontinue 😩
Al the Pal
This is my go to! I use everyday to keep my hair from getting staticky and it does wonders! Smells great and is super lightweight, and it doesn't leave any residue in my hair, which I love! I try not to use a lot of product in my hair and this is so light I feel like I'm not using anything but it still delivers the results I need. I'm so upset that this won't be on shelves much longer 😭😭
Yes, I would recommend to a friend
I would buy it again
Ana Caroline
Baltimore, MD | 19 days ago
The smell is unusual but if you use a cologne, it'll disappear. The thing is: it works and my hair has much less static.
Yes, I would recommend to a friend
Didnt do as I expected
LionMane
I have quite thick, wavy, black hair and I was hoping that this product would really help smooth out and tame my otherwise untameable hair and replace hairspray in my life. Unfortunately, this product did not do much for my frizz/baby hairs, which was disappointing based on the wonderful ingredients in this product. And the scent is just not for me, definitely much more herbal/ earthy than I expected. Although, it did not leave any residue/film in my hair, which was nice.
My favorite Lush product! Why are you discontinuing it :(
Kristi
I came to your website to buy a new bottle of my fave Lush product, and I'm so disappointed to learn it's being discontinued and unavailable for order :( I guess I'll trek to a store to stock up before it disappears completely. I hope there's an equally fabulous-smelling replacement product coming soon.
Yes, I would recommend to a friend
Please don not discontinue!
Jennie
Portland, OR | 30 days ago
This is my everyday go to! It smells great and keeps my hair shiny, soft and smooth! It doesn't weigh down my hair or get sticky like other products. It's great on wet and dry hair! I keep it in my purse for little touch ups throughout the day! My favorite Lush product of all time!
Yes, I would recommend to a friend
Don't discontinue please!!!
Karla
Los Angeles, CA | 1 month ago
It detangles and leaves my hair smelling great! I love this spray! Please don't discontinue!!!
Yes, I would recommend to a friend
LUSH dropped the ball on this one majorly!
Genie in a bottle
Mississauga | 1 month ago
LUSH products have never disappointed me before scent wise or use of product until today! This product's scent HAS got to be changed...I was bemused by the low rated review descriptions before I tried the product but were they ever on the mark! It reeks! It smells like you sat in an old musty potpourri in a smoker's house...bring back the product...I actually wanted to use more in my hair but it just was so gross smelling. I can't wait to wash this out and toss the product!
Never run out of your favorites
Stay stocked up with regular deliveries every one, two or three months.
Commitment-free, hassle-free
You can pause, skip, change or cancel an order at any time.
Customize your ReFresh
Build a personalized subscription plan that works for you.