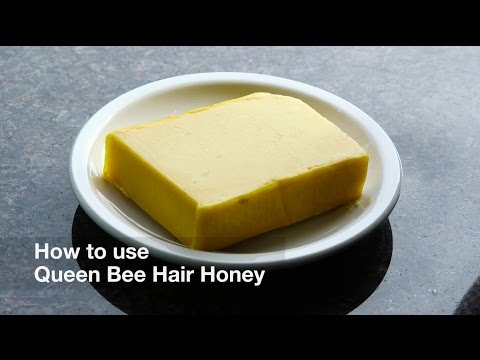 I love this product so much!!! Once I'm out of the shower I towel dry my hair and apply a little bit of the product... I then braid it for the night. In the morning I open my braids and am left with beautiful waves! Not only is my hair softer, it's also silky and already feels healthier
Alysha, Ottawa, ON
Running the world can take its toll on your hair. Make sure you step out feeling flawless by locking in moisture with this fragrant rooibos, cinnamon and honey-packed balm. Created specifically for natural, curly or afro hair, this blend of nourishing almond oil and cocoa butter is simply irreplaceable. So whether you twist, braid, steam or jump straight out of bed, you'll be crazy in love with the results.
See how to use
We'll send you an email as soon as it is in stock
We will keep you posted
You'll receive an email as soon as this product is in stock
Continue Shopping
I love this product so much!!! Once I'm out of the shower I towel dry my hair and apply a little bit of the product... I then braid it for the night. In the morning I open my braids and am left with beautiful waves! Not only is my hair softer, it's also silky and already feels healthier
Alysha, Ottawa, ON
Fresh ingredients
Full Ingredients
Fair Trade Organic Cocoa Butter

(Theobroma cacao)
,
Rooibos Tea and Cinnamon Decoction

(Aspalathus Linearis; Cinnamomum Zeylanicum)
,
Corn Oil (Zea mays)

(Zea Mays (Corn) Oil)
,
Beeswax

(Cera alba)
,
African Honey

(Honey/Miel)
,
Argan Oil

(Argania spinosa)
,
Glycerine
,
Moringa Oil

(Moringa oleifera)
,
Fragrance
,
Sicilian Lemon Oil

(Citrus limonum)
,
Almond Essential Oil

(Prunus dulcis)
,
Ylang Ylang Oil

(Cananga odorata)
,
Amyl Cinnamal
,
Benzyl Alcohol
,
*Benzyl Benzoate
,
*Benzyl Cinnamate
,
*Eugenol
,
*Geraniol
,
*Isoeugenol
,
*Benzyl Salicylate
,
*Citral
,
*Farnesol
,
*Limonene
,
*Linalool
.
We do not test our finished products on animals. We also only purchase from ingredient suppliers who do not test on animals.
Learn more about our values
How to Use
Break off a small amount, melt into hands, and work through the hair for definition and moisture.
Cultivating Flourishing Ecosystems in Uganda
In 2014 we began investing in regnerative farms. We work with Ugandan communitites to put more trees in the ground, put more money in the hands of the farmers and to become 100% transparent. With Ugandan farmers feeling the effects of deforestation, they are struggling to adapt.
Find out how regenerative farming helps.
DON'T DISCONTINUE S.O.S
Rod
Sunny isles,fl | 3 days ago
I have recently discovered both you store and this product specifically the queen bee hair product. I now use it as a part of my daily haircare regimen, with the Pro-Hair movement, black men as a demographic, are truly underserved and undereducated, on just what it takes to maintain a healthy, manageable, soft to the touch, non greasy, and most importantly not riddled harmful chemicals. Your QUEEN BEE product has given me the confidence to proudly rock my natural hair. I'd be lost without out this product.
Yes, I would recommend to a friend
This shouldn't be leaving—KEEP this product!
Veronica "Baebiidoll"
Sacramento, CA | 3 days ago
I use the product out of the shower after towel drying my hair. I also use it when my hair is on the dryer side and it practically cures my scalp and ends. This is in fact, the best product I've ever used and I'm an extremely cynical person. This product discontinuing is the perfect example of when we curly tops, coarse women and/or heavy hair die-hard braid wearers find a product that works and somehow it's discontinued. It would be a shame to lose out on shine, condition and softness. I encourage the company to reconsider discontinuing this product. It's literally sent from heaven. Thank you!
Yes, I would recommend to a friend
I love it
Jamaela Jennings
I love this product. And the way that it makes your hair smell is unbelievable I really absolutely love this stuff
Yes, I would recommend to a friend
Why is being discontinued?
Lis
This stuff is awesome. I always keep a generous supply and am now just ordering from early this year because of cv19. Please don't. It is the only product that works in my hair that does not come in some sort of plastic. I can't tell you how disappointed I am that this is leaving your supply.
Yes, I would recommend to a friend
AMAZING
Elle
I absolutely love this product. I have short easily tangled wavy frizzy hair and this product reduces the frizz and defines my curls. I am so so incredibly in love with this product and really really want it to not be discontinued!!!!
Yes, I would recommend to a friend
Please don't discontinue the product
Cherrie
My son has a nice long curly hair. We never cut it since birth and he's 3 now. I have bought and used so many products lush or not and this is the only thing that works so well on his hair. Everyone would really praise him for his hair, not only because the curls are so define and looks fresh but also it smells so good. I honestly don't write reviews or comments but this is to let Lush knows that we love this thing and please don't discontinue it. I was so heartbroken when I found out you guys are taking this off the market soon. Just when I have finally found the perfect hair moisturizer/styling for my son, you'll discontinue it. Please don't.
Yes, I would recommend to a friend
Heaven Sent
Disappointed
Massachusetts | 8 days ago
I am soooooo disappointed to see Queen Bee go! As a woman with 4b/4c hair, it's extremely difficult to find anything that is moisturizing. Queen Bee literally makes my hair melt! Please bring her back!!
Yes, I would recommend to a friend
Please Don't Discontinue
KP from PA
Pittsburgh, PA | 9 days ago
This works wonders on my naturally curly hair. I love everything about it and I, too, am begging LUSH to please re-consider this decision to discontinue. Please!
Yes, I would recommend to a friend
PLEASE DON'T DISCONTINUE! I NEED THIS FOREVER!
Bex
Mission, TX | 10 days ago
This is legit the only product that works for my hair. I'm an Indian girl-for hair type reference- with dry, frizzy, curly 3b hair and this stuff works really well as a preshampoo treatment. I just apply it to each curl on dry hair and then shampoo with either baby shampoo or a shampoo bar as usual (cowashing is too gentle to have the effect I want). I follow up with a super conditioning cowash (like TPH) or a conditioner, and then Cantu coconut curling cream and this combo has been working SO SO well for me. I've experimented and I've noticed if I skip Queen Bee, I'm a frizz ball. Or if I try literally ANY other method (like subbing it out for oil) it does NOT work. LUSH I NEED THIS FOR THE REST OF MY LIFE! And sadly I can't afford to stock up, with my job my paycheck only allows me to buy Lush things on an as-needed basis. I really hope Lush considers the many people who rely on the amazing Queen Bee.
Yes, I would recommend to a friend
Gold, Da best, and Alladet.
Riss
Product works wonders on edges. I use it before applying edge control, and it's the best. I don't use it too much to braid or twist, but it's on the way! So, yea...this is a great product for thick 4c hair as a daily moisturizing. HIGHLY RECOMMEND.
Yes, I would recommend to a friend
Customers who like this item also like:
Never run out of your favorites
Stay stocked up with regular deliveries every one, two or three months.
Commitment-free, hassle-free
You can pause, skip, change or cancel an order at any time.
Customize your ReFresh
Build a personalized subscription plan that works for you.