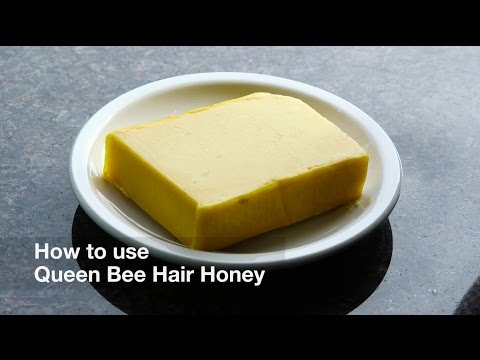 I love this product so much!!! Once I'm out of the shower I towel dry my hair and apply a little bit of the product... I then braid it for the night. In the morning I open my braids and am left with beautiful waves! Not only is my hair softer, it's also silky and already feels healthier
Alysha, Ottawa, ON
Running the world can take its toll on your hair. Make sure you step out feeling flawless by locking in moisture with this fragrant rooibos, cinnamon and honey-packed balm. Created specifically for natural, curly or afro hair, this blend of nourishing almond oil and cocoa butter is simply irreplaceable. So whether you twist, braid, steam or jump straight out of bed, you'll be crazy in love with the results.
See how to use
I love this product so much!!! Once I'm out of the shower I towel dry my hair and apply a little bit of the product... I then braid it for the night. In the morning I open my braids and am left with beautiful waves! Not only is my hair softer, it's also silky and already feels healthier
Alysha, Ottawa, ON
Fresh ingredients
Full Ingredients
Fair Trade Organic Cocoa Butter

(Theobroma cacao)
,
Rooibos Tea and Cinnamon Decoction

(Aspalathus Linearis; Cinnamomum Zeylanicum)
,
Corn Oil (Zea mays)

(Zea Mays (Corn) Oil)
,
Beeswax

(Cera alba)
,
African Honey

(Honey/Miel)
,
Argan Oil

(Argania spinosa)
,
Glycerine
,
Moringa Oil

(Moringa oleifera)
,
Fragrance
,
Sicilian Lemon Oil

(Citrus limonum)
,
Almond Essential Oil

(Prunus dulcis)
,
Ylang Ylang Oil

(Cananga odorata)
,
Amyl Cinnamal
,
Benzyl Alcohol
,
*Benzyl Benzoate
,
*Benzyl Cinnamate
,
*Eugenol
,
*Geraniol
,
*Isoeugenol
,
*Benzyl Salicylate
,
*Citral
,
*Farnesol
,
*Limonene
,
*Linalool
.
We do not test our finished products on animals. We also only purchase from ingredient suppliers who do not test on animals.
Learn more about our values
How to Use
Break off a small amount, melt into hands, and work through the hair for definition and moisture.
Cultivating Flourishing Ecosystems in Uganda
In 2014 we began investing in regnerative farms. We work with Ugandan communitites to put more trees in the ground, put more money in the hands of the farmers and to become 100% transparent. With Ugandan farmers feeling the effects of deforestation, they are struggling to adapt.
Find out how regenerative farming helps.
Great for fluffy twists
Nina
Newport News, VA | 1 month ago
I used this for twist on my kinky curly hair and it works great! I did have to use more than recommended so that my hair can be thoroughly moisturized and the portion given was small. But other than that my twists are super soft. I would get this again and ask for a much bigger piece. I recommend for people with afro hair texture like me.
Yes, I would recommend to a friend
Boyfriend's beard is so nice!
Happy girlfriend
Bought this for my boyfriend and his beard hasn't ever felt this good. He pairs it with Kalamazoo. We found that the smell from bar to bar tends to change but I wonder if that comes from different honeys and seasons.
Yes, I would recommend to a friend
Great for natural curly harid
Krizbit
St. Louis, MO | 1 month ago
I have a natural wave to my medium thickness hair and it always goes frizzy by middle of the day in the humidity. (Thank you midwest huidity) So when I was reading the reviews on this product I kept my fingers crossed. I LOVE IT!!! My hair is soooo soft and does NOT feel weighed down BUT that is because I read the other reviews and I just use a little bit. I cut it up in small cubes like another person suggested and it works great> Even the next day I can just brush and go and my hair does NOT look frizzy.
Yes, I would recommend to a friend
Makes my curls amazing!
Ashley
Negaunee, MI | 1 month ago
It's hard to find great products for my curly/wavy hair but this stuff is perfect! Not greasy, stiff, or oily.
Yes, I would recommend to a friend
Great for sealing and moisture in natural hair.
Crystal G
Works well to seal in moisture in curly natural hair. Gorgeous smell, too!
Yes, I would recommend to a friend
A little goes a long way
Rocca40niner
Vacaville, CA | 4 months ago
This products isn't necessarily a great pick for my hair type. I have thin hair so if I use this product too much it can cause my hair to look oily. However, the winter time zaps the moisture out of my hair causing breakage. I find this product best used as a styling product to sleek back hair or on the ends to sooth the tips. A little goes a L-O-N-G way, so you get alot of banf for your buck. Plus the smell!? Ahhhh-mazing.
Yes, I would recommend to a friend
Fabulous
Abbye
Kansas City | 4 months ago
I have thin mostly wavy but curly when the hair gods are merciful type of hair. I've tried so many products and they have all been so 'heavy' I just can't stand them. The queen bee hair honey is amazing. It coats my little waves and keeps the frizz away. My hair feels soft and bouncy without that 'products feel' all day long. Even high winds couldn't ruin my hair! It smells so good. I use about a dime sized amount for shoulder length hair. I have it stored inside an oval lush tin. Makes it super easy to get out what I need and makes it easy for when I travel too!
Yes, I would recommend to a friend
This hair thing is so good for cow licks
the cow lick caper
olympia washington | 5 months ago
i love this product, i got it at the recommendation of the lush lady on a whim and had no idea until i put it in my hair that it had beeswax, i assumed it was just honey. As soon as i fingered it through my hair after a shower i was surrounded by that wonderful smell, and it lingers throughout the day so sweetly. if you use too much of it, it can make your hair look greasy/heavy, but using the right amount for your style it provides a gentle but firm hold and tons of hydration. i have pretty dense, fine hair, so i need something that gives me hydration and definition, while still providing a lot of hold because i have some really aggressive cow licks. i love how when it gets warm you can reshape it really easily, makes it easy enough to get it to do what you want. will be buying again, i've never been able to tame my cow licks with any other thing that i've tried.
Yes, I would recommend to a friend
I love this product
Andrea
California | 5 months ago
I use this almost daily for my very fine curly hair and have for a couple years. It takes very little of the product to tame my curls and lasts quite a while so that is nice too. The scent is very mild but I love that because some other products I have tried have scents so overpowering they gave me a headache.
Yes, I would recommend to a friend
Not for me...
lilykatz
Smelled great, but it was to sticky for me to use also it didn't give me any hold for my curls.
Customers who like this item also like:
We'll send you an email as soon as it is in stock
We will keep you posted
You'll receive an email as soon as this product is in stock
Continue Shopping