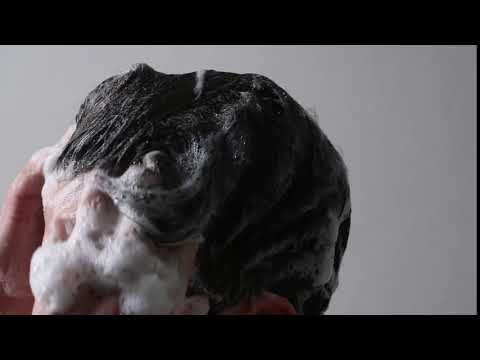 For hair that's been heat-styled, bleached, dyed, teased and flat-out stressed. This shampoo is made with cleansing, restorative herbal ingredients to leave hair and scalp feeling like new. Note: not recommended for freshly-dyed hair.
We'll send you an email as soon as it is in stock
We will keep you posted
You'll receive an email as soon as this product is in stock
Continue Shopping
&nbsp
We've made our recyclable bottles thinner to further reduce unnecessary plastic
Benefits
Olive and jojoba oils nourish damaged hair
Fresh fruit juices restore shine and softness
Peppermint and juniper berry stimulate the scalp
Apply a small amount to the hair, work into a lather, then rinse thoroughly.
Sodium Lauryl Sulfate
,
Carrageenan Extract

(Chondrus Crispus)
,
Water

(Aqua)
,
Ammonium Laureth Sulfate
,
Cocamide MEA
,
Fragrance
,
Fresh Papaya Juice

(Carica papaya)
,
Propylene Glycol
,
Fresh Pineapple Juice

(Ananas sativus)
,
Fine Sea Salt

(Sodium Chloride)
,
Fresh Kiwi Juice

(Actinidia chinensis)
,
Fresh Mango Juice

(Mangifera indica)
,
Cold Pressed Organic Jojoba Oil (Simmondsia chinensis)

(Cold Pressed Organic Jojoba Oil (Simmondsia Chinensis))
,
Organic Extra Virgin Olive Oil

(Olea europaea)
,
Almond Oil

(Prunus dulcis)
,
Lavender Oil

(Lavandula Angustifolia)
,
Peppermint Oil

(Mentha piperita)
,
Rosemary Oil

(Rosmarinus Officinalis)
,
Juniperberry Oil

(Juniperus communis)
,
*Limonene
,
*Linalool
,
Benzyl Alcohol
,
Methylparaben
,
Propylparaben
.
We do not test our finished products on animals. We also only purchase from ingredient suppliers who do not test on animals.
Learn more about our values
Shipping
Ground shipping starts at $6.00 and takes 2-8 business days to arrive after being shipped.
Priority shipping is also available.
Return Policy
Please note: we cannot accept returns without prior authorization.
To return an order made online or over the phone, contact our dedicated Customer Care team to get started.
Returned items need to be 75% intact and returned with their original packaging and include a copy of the packing slip. You can return items up to 90 days after the date we shipped your order. Shipping charges are not usually refundable.
For information on in-store returns and more, see full return policy
"I have been using this and my hair dreams have come true! My hair is now thick and shiny! It also makes my hair smell AMAZING! It is a chocolatey minty scent... If your hair is damaged, BUY THIS NOW!"
Rachel, Washington D.C.
Vegan Haircare
We're 100% vegetarian, and even better, most of our products are vegan. So, vegan and tired of compromising on your hair? We've created stunning products that cruelty-free and sure to make you shine.
Vegan friendly products await.
Love it
Zuzu
So so so amazing it makes my hair so soft and silky It smells awesome
I don't understand why this is so highly rated
WNY Lushie
Buffalo, NY | 1 month ago
I just don't get it. I tried using this for a while, and I couldn't figure out why my hair was so dry. I don't use heat on my hair and my hair isn't dyed, but after using this shampoo, my hair felt fried. It's taken months to resurrect my soft hair after using this shampoo. Then I stupidly thought, well it couldn't possibly be that bad, so I gave it one more wash, but nope, it was that bad. I'm not sure what to do with the rest of the bottle, but it's never going on my hair again.
Best Product for Austin Allergy Suffers!
Allergy relief
I love this product to death! I looked a long to find a soy free wheat free product that would help me with Austin Allergies. It helps my head not itch from pollen allergies and leaves my hair squeaky clean. My husband also loves the smell so it's always a plush getting head kisses and him loving the smell.
Yes, I would recommend to a friend
FANTASTIC PRODUCT3
Barry J.
Attleboro, MA | 2 months ago
I use an empty Lush container about half filled with warm water and put four drops of Rehab shampoo in and shake it up. I can wash my hair 3-4 times and each time my hair gets cleaner and cleaner, squeaky clean and fresh smelling. Long lasting. I don't usually write reviews, however, this product is fantastic.
Yes, I would recommend to a friend
Awful...
Katie
It smells so good, but it dried my hair out so bad!! My hair was a rats nest after the first wash, again after the second... the third I tried to just get my scalp, but then a few days later my scalp was on fire. I only wash my hair 2-3 times a week, so I know I wasn't going overboard with it. I'm sure its great for some people, just not for my hair :(
Saves my scalp!
TD
Willoughby Ohio | 2 months ago
My scalp doesn't do well in the colder months. This is the perfect shampoo. It lathers really well, allowing for a deep clean. It leaves my scalp and hair feeling clean and reduced flakes!
Yes, I would recommend to a friend
Scalp & Hair saviour!
Mrs.Martini
BC, Canada | 2 months ago
The best thing I've ever put in my hair! The tingly mint works wonders on my scalp, reduces itch, flakes and greasy build up. Stimulating and enjoyable to use, feels like a scalp treatment. The shampoo manages to be both deeply cleansing and nourishing on my hair, not drying or stripping. It's the only shampoo my husband will use now. I have long wavy thick hair, I only shampoo twice a week, this keeps my hair and scalp fresh between washes. My hair feels stronger after using it, and less frizzy.
Yes, I would recommend to a friend
Saved my hair
Laylay
My hair is very porous because of the bad treatments i did to it oops... But this shampoo saved my hair from literally falling from my hair. Might not smell great, but it definetly worth it
Yes, I would recommend to a friend
Say goodbye to conditioners
Alexa
After using REHAB, I stopped using the hair conditioner. Before using this, my hair was ALWAYS dry. Thus, I used different conditioners, hair oils, etc. When I first washed my hair with rehab, my hair was so smooth and I felt so refreshing. I did not use the conditioner or hair mask. I just dried my hair with cold air. It was a GAME CHANGER. My hair was so smooth after drying it. I loved it!!. My sister tried once and she loved it too. I am planning to buy a 1L bottle for my next purchase.
Yes, I would recommend to a friend
Love this product
Carissa
I use this product with acid rain after using Superbalm to relieve my dry itchy scalp. I love it! Gives my hair bounce and volume and feeling so clean and light. Can't get enough!
Yes, I would recommend to a friend
Customers who like this item also like:
Never run out of your favorites
Stay stocked up with regular deliveries every one, two or three months.
Commitment-free, hassle-free
You can pause, skip, change or cancel an order at any time.
Customize your ReFresh
Build a personalized subscription plan that works for you.