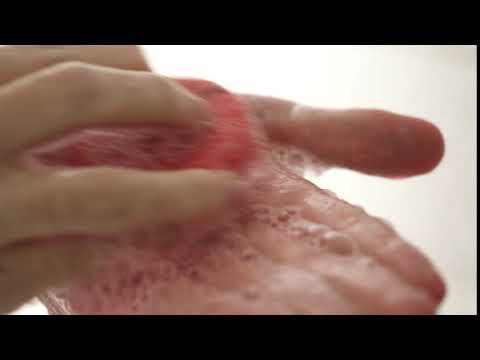 #BeCrueltyFree with this packaging-free shampoo that helps to stimulate your scalp and add volume with a host of warm, aromatic spices.
We'll send you an email as soon as it is in stock
We will keep you posted
You'll receive an email as soon as this product is in stock
Continue Shopping
When stress or life goes to your head and your hair starts thinning, motivate your tired scalp with stimulating clove and cinnamon oils and a peppermint infusion. This spicy bar also has rosemary and nettles to soothe irritated scalps and make your hair shiny and soft. With a special #BeCrueltyFree message, our bestselling New encourages everyone to join the conversation about ending animal testing once and for all. Visit our friends at Humane Society International to learn more and take action.
One bar replaces up to three 250ml bottles of liquid shampoo
Benefits
Nettle, clove and peppermint stimulate your scalp
Cinnamon leaf oil warms and adds natural fragrance
Vegan
Self Preserving
Naked
Rub between hands to create a lather, or directly onto hair. Massage into the hair and scalp then rinse clean.
Sodium Lauryl Sulfate
,
Nettle and Peppermint Infusion

(Urtica dioica, Mentha piperita)
,
Fragrance
,
*Eugenol
,
Glycerine
,
Nettle Absolute

(Urtica urens)
,
Rosemary Absolute

(Rosmarinus officinalis)
,
Clove Bud Oil

(Eugenia Caryophyllus)
,
Cinnamon Leaf Oil

(Cinnamomum Zeylanicum)
,
*Cinnamal
,
Cinnamyl Alcohol
,
*Benzyl Benzoate
,
*Limonene
,
*Linalool
,
Red 30
.
We do not test our finished products on animals. We also only purchase from ingredient suppliers who do not test on animals.
Learn more about our values
Shipping
Ground shipping starts at $6.00 and takes 2-8 business days to arrive after being shipped.
Priority shipping is also available.
Return Policy
Please note: we cannot accept returns without prior authorization.
To return an order made online or over the phone, contact our dedicated Customer Care team to get started.
Returned items need to be 75% intact and returned with their original packaging and include a copy of the packing slip. You can return items up to 90 days after the date we shipped your order. Shipping charges are not usually refundable.
For information on in-store returns and more, see full return policy
Why it works
---
Clove Bud Oil
Sweet and spicy aroma, Freshens breath, Stimulates scalp
"This shampoo bar is a miracle... It gave my hair volume, shine, and incredible softness."
Trish, Boston, MA
Haircare Unpackaged
Ready to save the planet? Start with your hair. We've created a range of naked (packaging-free) haircare products. From shampoo bars, to solid conditioners, we have the perfect way to save the planet, while looking fabulous.
Discover how you can get naked.
Does it ALL
Olivia
Phoenix, AZ | 10 days ago
1. cleanses, promotes softness, detangles, non-stripping, volumizes and defines curls Super cinnamony but yet mild scent. Favorite shampoo bar so far, second to Karma Komba #bringitback!
Yes, I would recommend to a friend
My NEW favorite shampoo
Kane
I love this shampoo so much. It brightens my hair(blonde) and makes it look so clean and healthy. And soft! I personally love "earthy" smells, and the smell of cloves and cinnamon is so pleasant in my opinion. And if you don't like it, you can always get a heavily scented conditioner like veganese(another favorite). It gives my hair a healthy brighten and volume. I will never buy another shampoo this is just perfect.
Yes, I would recommend to a friend
Great Low Waste Shampoo!
Becca
Got this as my first shampoo bar and was unsure how well it would work but it's perfect! Long lasting, great smell, lathers with just 1 or 2 swipes, and really helps reduce oil build-up in my hair. I suggest keeping it in a container/soap bar holder because it does get a little soft and might crumble a little if left unprotected, but besides that no complaints.
Yes, I would recommend to a friend
Beware ingredients
LD
I am a big fan of Lush's solid shampoo bars so didn't think twice about ordering this one, but the spiciness is so intense that when I lather it, it burns my eyes. Something in here has a kind of pepper spray effect when combined with a warm shower. Definitely steering clear of this.
Works well but has intense incense smell
jenni
I'm new to Lush & the 1st shampoo bar I took a chance on ordering online was Montalbano (which is awesome), so I took another chance on NEW based on positive reviews. Found that the "tingly" aspect was accurate but unfortunately the smell was so overpowering; this is pure clove, through and through. And it made my entire house smell like it. I gave it to a friend after 1 use. While it is a good quality shampoo I would only recommend this to someone who specifically enjoys clove/incense.
Amazing all around
Lily
New Hampshire | 1 month ago
This shampoo works wonders on my dry scalp. The smell is amazing, it leaves my hair soft when rinsed out and not overly stripped. Like most shampoo bars from lush it does need to be followed with a conditioner but I expect that and am fine with it, this one isn't as stripping as some of the other bars though.
Yes, I would recommend to a friend
super simple and nice
jules
Very easy to lather. Little goes long way. When you first wash out of hair my hair feels as if ive been swimming in a chlorine filled pool but once my hair is dry its super soft and nice
Yes, I would recommend to a friend
This Shampoo SAVED ME!
Ranz
This product is overall amazing. It keeps my scalp healthy, stimulates my hair follicles which allows my hair to grow quickly, leaves shine, and smells great. I originally bought this product when I had a mild case of alopecia. I was stressing so badly, I didn't notice I was losing hair and gaining some bald spots. This shampoo (along with roots and rehab) stimulated my hair follicles and let my hair grow back within a week. 5 years later, and its never left my shower!
Yes, I would recommend to a friend
Thank you LUSH!
Hashimoto Hair
I am totally in love with this shampoo! I suffer from thyroid issues and have awful, brittle dry hair that just snaps off and falls out in clumps. I've tried countless products/shampoos to try to help get my hair to come back in and have had no luck for years until now! I can't believe that in just 3 months my hair is not only feeling healthier and fuller, but my patches have baby hair coming back finally! This stuff is truly a miracle worker! I have LONG hair and one bar has lasted 4 months! I even got my Dad to start using it for his thinning hair and he's loving it too! Thank you so much LUSH, you've helped restore my confidence!
Yes, I would recommend to a friend
Love love love
Package Free Mom
Langley BC | 2 months ago
I love this bar SO much. I have oily hair and it goes limp and oily very quickly. With NEW bar it's fluffy even a day later!! I do not need to use conditioner with this bar but to keep ends from drying I add Aragon oil once a week or so. I did have an issue a few years back where my Very platinum hair turned pink, however was told this was not normal and probably was a bad batch. Don't have an issue now but if your hair is Very bleached I would be careful.
Yes, I would recommend to a friend
Never run out of your favorites
Stay stocked up with regular deliveries every one, two or three months.
Commitment-free, hassle-free
You can pause, skip, change or cancel an order at any time.
Customize your ReFresh
Build a personalized subscription plan that works for you.