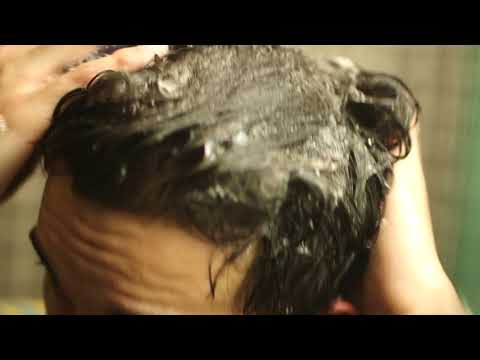 Deep-clean oily, dull hair and congested scalps with this cleansing, soothing packaging-free shampoo bar filled with shine-boosting lemon and lime.
We'll send you an email as soon as it is in stock
We will keep you posted
You'll receive an email as soon as this product is in stock
Continue Shopping
Why it works
---
Lime Oil
Uplifting, Protecting, Refreshing
"This product blew my mind! Smell is amazing and lathers amazingly... Perfect for home, travel and everything in between!"
Kelly, Washington
Haircare Unpackaged
Ready to save the planet? Start with your hair. We've created a range of naked (packaging-free) haircare products. From shampoo bars, to solid conditioners, we have the perfect way to save the planet, while looking fabulous.
Discover how you can get naked.
LOVE
Amy B
Thunder Bay | 10 days ago
I love this shampoo bar! I have extremely oily hair but it allows me to go longer between washes without my hair looking disgusting and wet. It has a beautiful lather and smell good. At first I wasn't sure on the smell but it grew on me. Love Love Love this bar.
Yes, I would recommend to a friend
Favourite Shampoo
Kim B
I have tried many shampoo bars and this one is my favourite. It leaves my hair clean and shiny. I ran out of it and had to use bottled shampoo for some time and the difference is crazy! I would not go back to pharmacy shampoos which are giving me an itchy scalp. This one is the best by far!
Yes, I would recommend to a friend
AMAZING!
Ashli
I usually have such greasy hair after a day without washing it, other days I have a dry scalp. With either, I use this everyday and it feels so good to use and it doesn't take much to make a lather!
Yes, I would recommend to a friend
Will keep stocking up on this one!
Adam 🎶
Chicago, IL | 24 days ago
This is such an amazing bar. A couple of seconds rubbing this bar creates so much lather that feels so good on my hair. I use it with American Cream conditioner bar and Sleepy soap. Feels really good to cut down my environmental impact by not buying big shampoo bottles.
Yes, I would recommend to a friend
Amazing!
Jenna
Pennsylvania | 24 days ago
I decided to make the switch from plastic bottles to shampoo bars and I will never be going back! I wanted to limit my single use plastic waste and decided to try these out. I have thinner hair that tend to get oily quickly, but this stuff does just the trick to keep my hair fresh all day and it smells absolutely amazing!
Yes, I would recommend to a friend
Love this bar!
Sarah
I was a nervous first time shampoo bar user, but knew I wanted to make the switch for sustainability and ease of travel. I cannot recommend enough! This bar cleans my oily hair very well and leaves my hair feeling soft even without conditioner. I often use a little just to help detangle but when it was shorter I didn't even need it.
Yes, I would recommend to a friend
Goodbye expensive shampoo!
Stef
Everyone should try the lush shampoo bars! I was on the look out for a good shampoo that would clean my hair well. Before trying this specific shampoo bar I had been using Aveda Rosemary shampoo and conditioner. Thought it worked on my hair but it didn't deliver great results. So I came across Lush's shampoo bars and thought I would give it a try. This bar gave me more than what I was looking for. It left my hair silky, shiny, AND clean! After one wash my hair was noticeably different and my mom and sister noticed the dramatic change! It is very important that with the bar you massage the scalp well and I would recommend leaving it in for a little before rinsing. So worth the money!!
Yes, I would recommend to a friend
No thanks
Nope
I love lavender and I love rosemary. I didnt smell any lavender or any rosemary in this bar whilst washing my hair AND my hair felt gross after the wash. It left a waxy film on my hair and I had to wash it out it felt yucky. 0/10 do not recommend.
Must Have!
MT
This was my first shampoo BAR. I love Lush's package free products for sustainable living. I am amazed at how easily the bar created a luscious foamy experience. It's more luxurious than any liquid shampoo I've used. I have thin, bleached, blonde hair and it made the bar made my hair feel so soft.
Yes, I would recommend to a friend
Love It!
Racquel
Waterloo, Ontario | 1 month ago
I've tried a few types of shampoo bars from other brands and they all left me feeling grosser than I started. This bar smells great and didn't leave any residue. It also lathers exceptionally quickly. I would definitely recommend it, and I will be buying it again!
Yes, I would recommend to a friend
Customers who like this item also like:
Never run out of your favorites
Stay stocked up with regular deliveries every one, two or three months.
Commitment-free, hassle-free
You can pause, skip, change or cancel an order at any time.
Customize your ReFresh
Build a personalized subscription plan that works for you.