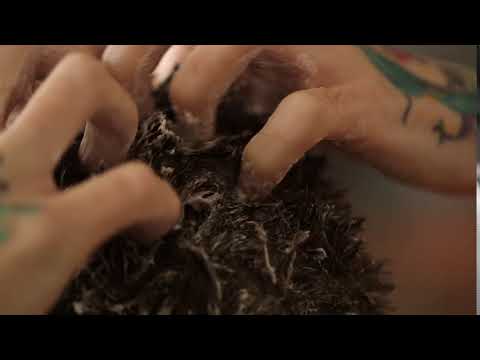 Works well for fine, thin or dull hair looking to add volume, shine and softness thanks to humectant honey, tingly mint and refreshing citrus.
We'll send you an email as soon as it is in stock
We will keep you posted
You'll receive an email as soon as this product is in stock
Continue Shopping
Why it works
---
Honey
Moisturizing, cleansing
"I have naturally dry hair with zero volume - this product give me shine, volume, beautiful texture... I actually get compliments on how my hair looks when I use it... It also smells wonderful - minty and crisp."
Megan, Maryland
Strengthen and Repair Your Hair
Hair need some looking after? We get it, we've all been there. That's why we've created a range of hair treatments that work for every hair type to leave your hair looking good and feeling gorgeous.
Find your hair's new best friend.
My poor brittle fine hair is finally getting what it needs
M
I've used this once and my hair already feels completely different. My hair is shiny and smooth. I'm really shocked that something finally works on my type of hair.
Yes, I would recommend to a friend
Amazing!!
Victoria Rose
Ft Lauderdale FL | 26 days ago
Wow, I love lush, but this in particular really made an impression on me! It left my hair feeling like I just came out of the salon! So soft and light! I have extremely oily and thin hair. I will DEFINITELY be buying this again ASAP!
Yes, I would recommend to a friend
Volumizing and conditioning
Caitlin
Seattle, WA | 28 days ago
I put this all in my hair on the 2nd day without washing, let it sit for about an hour, then hopped in the shower, added a bit of water and scrubbed it in my hair, letting it sit some more. After I finished just rinsing it, my hair felt like I'd washed it, and after it dried, it's super fluffy, soft, and looks like I just washed it! I think I'll use it as a substitute for shampoo and conditioner on every 2nd or 3rd day. Amazing! Feels great and smells amazing.
Yes, I would recommend to a friend
Cured my dry, itchy scalp
Caitlin
I have long, very fine hair. I've been struggling with a dry, flaky, itchy scalp and am so happy I tried Roots as it has completely alleviated these issues. I started out by using it anytime my scalp felt really bad (every few days). I quickly noticed that I was needing it less and less and now I just use it about once a week as a preventative measure. The cooling sensation feels amazing and it smells great. The cooling effect was very strong when I first started using it but isn't as strong anymore, I guess because my scalp is healthier. I find it applies much easier when my hair is damp so I dip my scalp under the tap first. I apply to my roots, give my scalp a good massage, and then leave it in for about 20 minutes, or until I stop feeling the cooling sensation. I then wash it out in the shower with a Lush shampoo bar (it comes out very easily). Combined with using R&B as a leave-in conditioner, my hair is healthier than ever!!
Yes, I would recommend to a friend
Transformed my damaged hair
Ann
New York City | 1 month ago
I have naturally 2c curls. From age 10-14 I would straighten my bangs everyday. Then from age 14-18 I would curl my hair everyday to perfect the ringlets. All of this damage has left me with thin and short hair from 18-22. I've been using roots for a month and my former lifeless limp and dead bangs have been transformed back into its original ringlets. I feel like a little girl again with virgin hair. I can't wait to see what it'll do to the rest of my damaged hair. It's worth the price to give this a whirl.
Yes, I would recommend to a friend
Love love love!!
Crys
Philadelphia | 1 month ago
I have fine curly hair and when I use this product, my hair is so silky.
Yes, I would recommend to a friend
Love this
Ek
Slather this all over my scalp and leave on for 20 minutes but sometimes more. Love the feeling on the scalp. Gives nice volume and conditioning to thin hair.
Yes, I would recommend to a friend
Shine, Volume, Light Scent
Hay
I have a ton of fine very wavy hair. I also have a very sensitive scalp. This product does not irritate my scalp, gives my hair shine and volume, and somehow makes it much easier to brush through. I tend to use this as a conditioner instead of a pre-shampoo as directed. I leave this on my freshly washed hair for 15mins (or longer) and rinse out. Love the product. I'm on my third batch.
Yes, I would recommend to a friend
Shiny hair
Jam
New York, NY | 2 months ago
This is my first time using it and so far so good. It made my hair really shiny. Super clean and fresh looking. I have fine, thin black hair. I'm hoping to see the results everyone is talking about. I'll give a follow up review!
Yes, I would recommend to a friend
Staple
Jester13
cleans scalp so well and love that fresh tingle feeling. You just know good things are being absorbed in those 20 mins or however long you leave it in for.
Yes, I would recommend to a friend
Customers who like this item also like:
Never run out of your favorites
Stay stocked up with regular deliveries every one, two or three months.
Commitment-free, hassle-free
You can pause, skip, change or cancel an order at any time.
Customize your ReFresh
Build a personalized subscription plan that works for you.