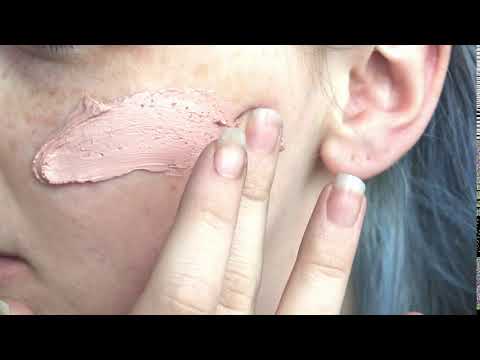 A truly soothing face mask for the most sensitive skin, made with an ultra-calming blend of calamine powder, rose petal infusion and rose oil.
We'll send you an email as soon as it is in stock
We will keep you posted
You'll receive an email as soon as this product is in stock
Continue Shopping
Find the happiness you seek by cleansing cheek to cheek with this gorgeously soothing fresh mask. A simple blend of kaolin, calamine and Turkish rose oil delicately calms the skin and restores balance. Whether you're feeling hot and bothered or just love showering your complexion with roses, cleansing calamine and kaolin will gently remove dirt while exquisite rose oil nourishes and tones your face. Calm, matte skin, here you come!
Recycled black pot can be returned to Lush where we'll recycle it again
Benefits
Kaolin deeply cleanses
Rose petal infusion soothes
Calamine powder calms
Smooth mask all over your skin. Leave on for 15 minutes then rinse off with warm water, massaging as you go.
Storage
Keep in the fridge to preserve freshness and to add a soothing, cooling touch.
We do not test our finished products on animals. We also only purchase from ingredient suppliers who do not test on animals.
Learn more about our values
Shipping
Ground shipping starts at $6.00 and takes 2-8 business days to arrive after being shipped.
Priority shipping is also available.
Return Policy
Please note: we cannot accept returns without prior authorization.
To return an order made online or over the phone, contact our dedicated Customer Care team to get started.
Returned items need to be 75% intact and returned with their original packaging and include a copy of the packing slip. You can return items up to 90 days after the date we shipped your order. Shipping charges are not usually refundable.
For information on in-store returns and more, see full return policy
Tackling the Plastic Problem
Let's be real. For too long we've been polluting marine ecosystems with plastics. But, the good news is together, we can help you take steps to ensure that problem doesn't get worse.
And there's a little reward for you too
I absolutely love it!
Sona
It smells heavenly. I use it once or twice a week. The feel of it on the skin is so soft. It leaves my skin so soft. The only con I've experienced is that it leaves my skin a little dry. I end up applying celestial a little after my face mask routine.
Yes, I would recommend to a friend
Love the smell
LikeTheCheese
St. Pete, FL | 19 days ago
I love the smell, it helps calm me. If it isn't a peel off mask I am never sure that it has done much for my skin, but this one feels nice going on and soothes my soul while I let it sit. Love it!
Yes, I would recommend to a friend
Nice mask
Jo
This mask is ok, I love that you keep in fridge to get that cooling feeling, the tightening is nice and it makes your skin soft.
Yes, I would recommend to a friend
One of my Favourite Lush Products!
Sara Rachael
I suffer from extremely sensitive skin. It gets very dry, but I also have an oily T-zone I also experience redness, irritation, uneven skin tone, plus I'm vegan. So all of these things make is super hard to find skincare products in general. I was skeptical at first about trying this be ause of all the rose in it (rose petal infusion, rose oil, rose clay); I assumed it would be too scented. But to me, the scent is so subtle. I absolutely love this mask! After just a few weeks of using this (I don't use it every night, just 2 nights per week), I noticed a huge difference! My skin looked more clear, less oily, less irritated, and it seemed to improve my skin tone as well plus, right after rinsing it off, my skin feels so smooth. Using this mask caused me to fall in love with Lush's other rose oil products – like Argan naked facial oil, Ro's Argan soap bar, Ro's Argan naked body conditioner, and Rose Jam shower gel. One thing I didn't like is that the mask can be difficult to spread around the face. So I find that having a slightly damp face usually helps. If you have sensitive skin like I do, then you will love this mask!
Yes, I would recommend to a friend
didn't do anything
mk blackwood
it dried my skin out but that's about it. pretty color though!
Been using it for years! Love.
Lululemon
pointe-claire | 2 months ago
This mask smells wonderful and is so so so calming...I suffer from mild rosacea and absolutely adore this face mask as it soothes my skin so well. It doesn't dry my skin out, but leaves it soft and feeling fresh. I usually do the mask during my nighttime routine :) an absolute fave.
Yes, I would recommend to a friend
LOVE this mask!
Kat
Fort Wayne, IN | 3 months ago
This mask is just wonderful! It smells fantastic, it feels really nice on my skin, and it makes me feel so soft and refreshed when I use it. It is a little bit of a hassle for me to get ahold of it because the nearest store to me is a two hour drive, but it is well worth the odyssey to get! 10/10, highly reccommend!
Yes, I would recommend to a friend
Favorite Lush Product
Lucy
This is by-far my favorite Lush product I have ever purchased! My skin always feels refreshed after using it :)
Yes, I would recommend to a friend
I hope Rosy Cheeks comes back soon!!!
em
Columbus, OH | 3 months ago
I LOVE ROSY CHEEKS!! This mask is just delectable. I have super sensitive, acne-prone skin, and this always has left my skin smooth and has helped to reduce inflammation!! It also smells amazing. I hope this makes its way back in stock soon!! < 3
Yes, I would recommend to a friend
Absolutely Worth The Wait!
LexiLushie
Roseville, Ca | 4 months ago
I have been using Lush products for 6-7 years now. And all of that time I have been wanting to try Rosy Cheeks mask! I knew t had to bee a great one when each time I went into my local Lush store they'd be sold out! Finally, I was able to get my hands on one and it was definitely worth it! The smell is beautiful! It's so lightweight and soft, makes my skin feel so soothes + smoother afterwards. This is very calming and great for anyone that struggles with skin irritation.
Yes, I would recommend to a friend
Never run out of your favorites
Stay stocked up with regular deliveries every one, two or three months.
Commitment-free, hassle-free
You can pause, skip, change or cancel an order at any time.
Customize your ReFresh
Build a personalized subscription plan that works for you.