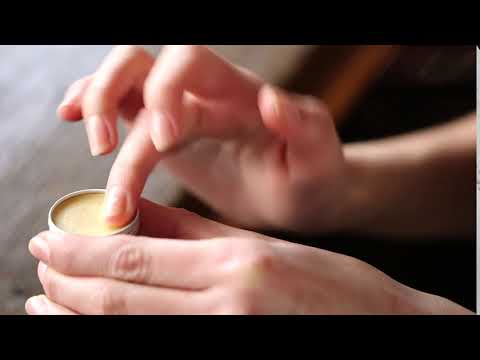 Get soft, smooth and soothed lips with this hydrating honey lip balm made with cocoa and shea butters that smells just like white chocolate.
We'll send you an email as soon as it is in stock
We will keep you posted
You'll receive an email as soon as this product is in stock
Continue Shopping
Smooth on our delicious honey, white chocolate and vanilla lip balm and you'll see why Honey Trap has captured the hearts of Lushies for years. A collection of deeply moisturizing ingredients like beeswax, fair trade shea butter, almond oil and organic wheat germ oil work protect your pout while a gentle pepperminty tingle provides a subtle pick-me-up. Keep this one on hand for a serious dose of moisture or sweetness whenever you need it.
Our vegan white chocolate is made from cocoa butter which is grown by farmers in eastern Congo (DRC). We pay a premium that allows them to invest in their local communities
Benefits
Good for dry, sensitive lips
Wheat germ oil protects
Beeswax locks in moisture
Smooth onto lips as often as necessary for soft, lickable lips.
Melt Warning: This product was made to melt on contact with skin which means it also melts easily in warmer weather. We recommend picking it up in-store rather than having it delivered.
Fair Trade Shea Butter

(Butyrospermum parkii)
,
Almond Oil

(Prunus dulcis)
,
Beeswax

(Cera alba)
,
Honey
,
Organic Extra Virgin Olive Oil

(Olea europaea)
,
Vegan White Chocolate

(Cocoa Butter, Rice Syrup, Rice Starch, Rice Flour, Sugar)
,
Glycerine
,
Flavor

(Fragrance)
,
Organic Cold Pressed Wheatgerm Oil

(Triticum vulgare)
,
Oatmeal

(Avena sativa)
,
Peppermint Oil

(Mentha piperita)
,
Vanilla Absolute

(Vanilla planifolia)
,
Sweet Wild Orange Oil

(Citrus sinensis)
,
*Anise Alcohol
,
*Benzyl Alcohol
,
*Limonene
,
*Linalool
,
Alpha-Isomethyl Ionone
.
We do not test our finished products on animals. We also only purchase from ingredient suppliers who do not test on animals.
Learn more about our values
Shipping
Ground shipping starts at $6.00 and takes 2-8 business days to arrive after being shipped.
Priority shipping is also available.
Return Policy
Please note: we cannot accept returns without prior authorization.
To return an order made online or over the phone, contact our dedicated Customer Care team to get started.
Returned items need to be 75% intact and returned with their original packaging and include a copy of the packing slip. You can return items up to 90 days after the date we shipped your order. Shipping charges are not usually refundable.
For information on in-store returns and more, see full return policy
Why it works
---
Honey
Moisturizing, cleansing
"After using this product, I refuse to use any other lip balm... Honey Trap makes my lips feel so soft and nourished and it has this really subtle, natural shine."
Noemie, Santa Barbara, CA
Meet the Ojoba Women's Shea Cooperative
The production of shea butter has changed the lives of the women of Bongo Soe, in Bolgatanga, Ghana. Now a reliable source of income, and the thread that keeps families and communities together, shea butter does more than work wonders for your skin.
Read the empowering story of these women
Love!
Christine
Love the smell and works so well on my lips. A little bit goes a long way, so I know this tin will last me a very long time.
Yes, I would recommend to a friend
Pretty good
Kells
My lips have a weird reaction to this balm, they peel like crazy. Smells amazing.
Yes, I would recommend to a friend
Formula change?
SJ
Minneapolis, MN | 1 month ago
This lip balm used to work so well for me. But now my lips have started reacting to it. I got a red ring around my lips the day after I bought some, and that never happened to me last year or the year before. I notice it's the same reaction I got from using "Whipstick", in which, my lips peeled really bad. I'm disappointed I can no longer use this lip balm because I really liked it.
Great lip balm!
Abby
Des Moines, IA | 1 month ago
I love this product. I have very dry lips and this is one of the few lip balms that I don't have to constantly apply throughout the day. It is very light weight and moisturizing, the flavor is also very pleasant. My only complaint is that it can be hard to get the product out of the container. I have a lot of product left over that I can't get to without a lip brush.
Yes, I would recommend to a friend
Best Lip Balm!
Syd
Louisville Ky | 1 month ago
I've been using Honey Trap for years and nothing else compares! It always leaves my lips feeling soft and moisturized.
Yes, I would recommend to a friend
Live saver for big lips
HoneyTrapped
This is THE most moisturizing lip balm I've ever used. I only need to apply it once a day to see results - no multiple applications. A little goes a long way so this little tin lasts me a long time. I have full lips (naturally) and this has been a life saver😍
Yes, I would recommend to a friend
Decent feel, weird taste
Bee
I really like the way this feels, but I find if I drink anything (including water) while it's still on my lips (and it does stick around) I end up with a gross waxy taste in my mouth. It's not a huge deal, I'll keep using it, but probably won't repurchase. I also wish I didn't need to stick a finger in it, especially right now. I find I only use it while getting ready in the morning and before bed because of needing to use a finger to apply it and end up using a tube style other brand throughout the day instead.
Surprisingly Good
Kels
I bought this lip balm (begrudgingly, not gonna lie) because I wanted something plastic free. I wasn't too excited about this, I expected it to be greasy and quick to wear off like most other potted lip balms I've tried. But this, ain't that. This lip balm is rich and protective, and surprisingly long lasting. Plus the sweet smell is a pleasant treat throughout the day, and the mint isn't over powering, it's just enough to leave a refreshed feeling on my lips. The one and only drawback is that I do have to use my finger to apply, which is of course the case with any potted balm, but that one minor drawback is more than worth it for a plastic free option that is oh so good.
Yes, I would recommend to a friend
It REALLY dried out my lips
Mari
Los Angeles, CA | 3 months ago
The product REALLY dried out the outer edge of my lips. It's not cracked, but it feels like a layer of dead skin over my lips. And I know for certain it's the lip balm because I stopped using it for a few days and used my lip gloss of another brand and my lips went back to normal, but when I pulled out the lip balm again it did the same thing. Not 1 star because maybe it's just a me thing, my lips aren't cracked, and it smells good. This is the first product from Lush that I'm returning.
Another Best Seller!!
JoeE
Riverside, CA | 4 months ago
I love love love the smell of this lip balm! It smells sooo wonderful and tastes delicious! It is my only lip balm of choice and it's so moisturizing. It can be a little difficult to get out of the tin at times but it's a small price to pay for having such a wonder product. Would definitely recommend (I mean I do to friends and family already!)
Yes, I would recommend to a friend
Never run out of your favorites
Stay stocked up with regular deliveries every one, two or three months.
Commitment-free, hassle-free
You can pause, skip, change or cancel an order at any time.
Customize your ReFresh
Build a personalized subscription plan that works for you.