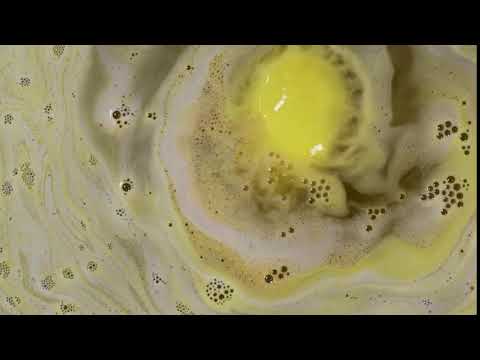 Melting into rings of rainbow colors, Groovy Kind Of Love will fill your tub with peace, love and beautifully scented harmony.
We'll send you an email as soon as it is in stock
We will keep you posted
You'll receive an email as soon as this product is in stock
Continue Shopping
"The fizzing is beautiful, a mixture of purple, pink, oranges and yellows... It leaves the bath with a gorgeous orange, like a large vat of honey."
Lena, Solana Beach, California
Bathroom smell and color
The Illusive Man
Washington, DC | 24 days ago
So I'm a guy and this smells exactly like a urinal cake... very awful. It also did not really fix and the ending color was brown. Easily my worst purchase thus far.
A nice surprise.
Brad
So first off I love this bath bomb. The smell is nice and sweet and it stays strong in the bath. I have had some bath bombs lose the sent a bit when in the bath but this isn't the case. When I first saw this bath bomb it didn't seem like one that I would like but I was presently surprised when I picked it up and smelt it. Know the colour of this bath bomb is not what I was expecting. I was expecting this to be more colourful however this was not the case. The colour that reminds in the bath is an orange colour which I don't mind. A lot of people have said its not a nice colour but disagree. I used this in the fall and the nice warm colour that orange is goes great with a warm or hot bath. Now this bath bomb does moisturize and I love the feeling that it has in the bath and even after the bath. I do love a good moisturizing bath bomb; it just makes me feel so relaxed. I definitely recommend this bath bomb. Don't let the colour get to you if you don't like those dark colours ruin this for you it is a really nice bath bomb. Will be buying this again.
Yes, I would recommend to a friend
This is the best bath ever!
Laurel
Eagle Rock, CA | 1 month ago
Soft, soothing, uplifting scent, brilliant colors that change and fizz soft moisturizers. If you have a jacuzzi tub, this makes the softest tiniest bubbles that remind me of the texture of fresh snow without the cold. I love the inclusive rainbow design!
Yes, I would recommend to a friend
Not my fav, smells nice though
A
This bath bomb smelled really good but visually just wasn't what I was hoping. I was expecting to get to see all the rainbow colors fizzing off but instead they just seemed to mix right away into this murky yellow-brown color. Not super pretty, but I still enjoyed the way it made my bath smell!
Yes, I would recommend to a friend
Nothing special
Rosie
It had a strong and sweet smell, spreads pretty colours and dissolves slowly, but the bathwater was dark brown which isn't very appealing when you want a colourful bath. I will stick with the intergalactic bath bomb.
Worked well for me!
Lyra
This was nice and frothy, and lasted a long time. The scent was nice but the water itself wasn't strongly scented. A lot of complaints about the color... For me, the water turned a deep orange (nobody's urine should be that color! If so, you need to drink more water or see a doctor!). It made my skin really soft also. This isn't my favorite bomb from Lush but i have no complaints about it!
Yes, I would recommend to a friend
One never seems to be enough
Mario
Indianapolis, Indiana | 1 month ago
This is one of my wife's favorite bath bombs and that is saying a lot with so many new ones to try.
Yes, I would recommend to a friend
love
cali
Atlanta, Ga | 2 months ago
the smell is amazing and it leaves my skin silky soft. the only bad thing about it is that it turned the bath an ugly pee color, not really pleasant lol
Yes, I would recommend to a friend
Big nope
Laurel
Brooklyn, NY | 2 months ago
Normally I love the bath bombs by Lush, but this was my first major fail. It smelled sickly sweet like Sweet Tarts and turned the water a putrid brown. To steal another reviewer's words, I found myself sitting in "poop soup". Intergalactic from here on out if I'm looking for rainbows.
MUST HAVE
Lilly
Port alberni | 2 months ago
I buy 1 or 2 every time I'm there. I absolutely love the colors. It is frothy and soapy and HUGE it lasts forever. smells great. Leaves my skin soft. And does not stain the tub
Yes, I would recommend to a friend
Never run out of your favorites
Stay stocked up with regular deliveries every one, two or three months.
Commitment-free, hassle-free
You can pause, skip, change or cancel an order at any time.
Customize your ReFresh
Build a personalized subscription plan that works for you.