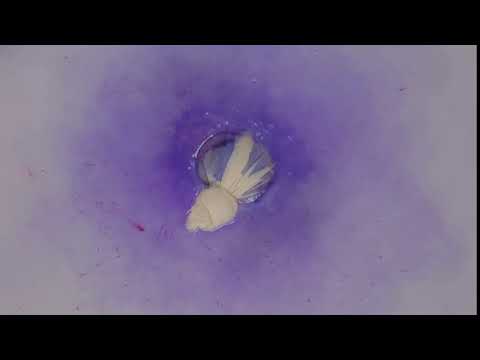 With lavender flowers, lavender oil and lavender absolute, Deep Sleep is a triple-hit of sleepy delights.
We'll send you an email as soon as it is in stock
We will keep you posted
You'll receive an email as soon as this product is in stock
Continue Shopping
Wrapped in biodegradable muslin, the lavender and Roman chamomile flowers infuse your water with a hypnotic blend of soothing floral scents, while neroli helps alleviate worries, so your mind can rest easy before you sink deep into sleep—in bed. Obviously.
Fill your tub with warm water, drop in the bath bomb and lie back to enjoy its lovely color and gorgeous fragrance.
Sodium Bicarbonate
,
Citric Acid
,
Lavender Flowers

(Lavandula angustifolia)
,
Roman Chamomile Flower

(Anthemis nobilis)
,
Lavender Oil

(Lavandula Angustifolia)
,
Chamomile Oil

(Anthemis nobilis)
,
Lavender Absolute

(Lavandula angustifolia)
,
Neroli Oil

(Citrus Aurantium amara)
,
Water

(Aqua)
,
Dipropylene Glycol
,
*Linalool
,
Fragrance
,
Red 33
,
Blue 1
.
We do not test our finished products on animals. We also only purchase from ingredient suppliers who do not test on animals.
Learn more about our values
Shipping
Ground shipping starts at $6.00 and takes 2-8 business days to arrive after being shipped.
Priority shipping is also available.
Return Policy
Please note: we cannot accept returns without prior authorization.
To return an order made online or over the phone, contact our dedicated Customer Care team to get started.
Returned items need to be 75% intact and returned with their original packaging and include a copy of the packing slip. You can return items up to 90 days after the date we shipped your order. Shipping charges are not usually refundable.
For information on in-store returns and more, see full return policy
"This bath bomb isn't like the other ones, but it was amazing. Not only did it have a great lavender smell, but the color was extremely delightful. This bath bomb is enjoyable and has no mess. Just sit back and relax."
liv, California
Gorgeous color and smell
Mimi
Loved this bomb and would buy it again...was about to unwrap and so glad I didn't as I didn't have any floating petals to clean up. Left my skin so soft and hydrated! The violet color was so beautiful and I just didn't want to get out of the tub. Left me feeling very relaxed indeed. Will pick up a few more for those stressful days!
Yes, I would recommend to a friend
Do not remove the covering...
Puglove26
Uhggg! This bath bomb/mesh came with a paper tie so I assumed that was to be removed! I had to use a pool net skimmer to get the pieces of lavender out. I looked up the bath bomb and found "how to use," but it doesn't say anything about removing or leaving the mesh on! It was a huge mess and not relaxing at all. Considering the bath bombs come loose in the box, I suggest a tag attached to the tie that says do not remove covering!
Warn people to leave the bag on!
AM
I had NO idea you were supposed to leave the cloth on it and this was the worst bath I've ever taken. The bath bomb had no scent whatsoever and just bombed my bathtub with flower chunks. Spent an hour cleaning my bath tub after my short lived bath. Shocked that lush didn't think to put any note on this. This was enough to make me never return to Lush.
Amazing!
Jane the runner
Philadelphia | 13 days ago
First off, you do not remove the cloth (SMH) ignore the reviewers stating this left a mess! After the bath bomb dissolved, you are left with a tea bag of lavender and chamomile floating in your bath. It's great. I'm pairing it with the Beauty Sleep mask and love both
Yes, I would recommend to a friend
Love Lavender
Jensen
Grand Rapids, MI | 13 days ago
My favorite smell is lavender. I love lavender so much, I have a tattoo of lavender. This bath bomb is perfect. I JUST LOVE IT.
Yes, I would recommend to a friend
THE BOMB bath bomb
Amanda
This is one of my favorites! I have used it a couple of times and always have an amazing and restful night of sleep! Keep the bag on, you can't go wrong with this one.
Yes, I would recommend to a friend
LEAVE THE BAG ON!
Megan
Got this as a gift - Loved the smell, loved the purple, didn't realize I had to leave the bag on and HATED the cleanup. Lush - please leave more detailed instructions for these! Even an experienced lushie like myself didn't know that I was supposed to keep the bag on. But I still would absolutely use again now that I know to use it.
Yes, I would recommend to a friend
My favorite bathbomb by far 😴
Bee
The bathbomb is full of fresh lavender, hence why it's wrapped in cheesecloth. Tip: keep the cheesecloth on to skip the lavender cleanup! anywho...WOW this bathbomb checks all the boxes. Not sure if it's for you? GET IT! It's so worth it. It smells amazing (kept my bathroom smelling for a whole day like lavender), its so calming and relaxing. Plus the deep purple color gave me bruja vibes ✨ I slept like a baby after my nighttime bath.
Yes, I would recommend to a friend
Pair with Beauty Sleep face mask for a serene bath
Linz
I bought this along with the beauty sleep face mask (both products I've never used before) and ohh man did it take the edge off my long day. I love that it's wrapped in fabric to catch all the lavender buds. I don't mind them in my tub but I love the thought.
Yes, I would recommend to a friend
Best bath bomb yet
Mars the Hairstylist
Portland OR | 18 days ago
Amazing to soak in. Love the deep purple color. I'm so relaxed after my bath! I read some of the reviews and am sad that people did not realize that you don't take the bath bomb out of the muslin. That's what makes it a tea bath bomb. The little flower pouch is so cute floating around after the bath bomb erupts. It's a really clever way to use the natural oils from the flowers without having to clean it up afterwards!
Yes, I would recommend to a friend
Never run out of your favorites
Stay stocked up with regular deliveries every one, two or three months.
Commitment-free, hassle-free
You can pause, skip, change or cancel an order at any time.
Customize your ReFresh
Build a personalized subscription plan that works for you.